FREE LIVE ENERGY HEALING
With Dr. Katharina Johnson, Medical Intuitive, Medical Doctor and Energy Healer
To join our monthly FREE ENERGY HEALING and get our newsletter, simply enter your name and email and I will send you the access details.
No spam. Newsletter subscription included.
Join thousands of others and receive a FREE LIVE ENERGY HEALING !
ONCE A MONTH
Date: July 19th, 2020 at 10 AM Pacific Time. Topic: "Healing Your Ancestral Line"
The event will last around 30 to 40 minutes.
PARTICIPATE FROM ANYWHERE IN THE WORLD
No matter where you are in the world, you can participate in the Free Energy Healing Event through Youtube.
EACH MONTH WE WILL FOCUS ON A DIFFERENT THEME
I will share with you how trauma can be passed on from one generation to the next and how you can energetically cleanse yourself. You will leave feeling refreshed and more free.
RECEIVE THE HEALING ENERGY
In the beginning of the call, Katharina will explain to you what you need to do in order to receive the healing energy.
A RECORDING OF THE CALL WILL BE MADE AVAILABLE TO YOU IN CASE YOU MISS IT
If you miss the call you can still receive the benefits of the energy healing by listening to the recording. The recording will be made available to you after the event.
Sign up on this page and receive a welcome email with your access information.
Participate in the Free Energy Healing either by phone or webcast.
A replay will be made available to you in case you miss the call.
What others are
saying
...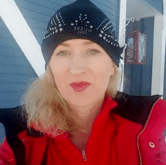 AukseFinnland
Dear Katharina, thank you very much! I am sensible to the energy and it works!!! Yesterday on your free healing event I was healing my heart chakra and relationship situation...Miracles...Thank you very much!
I feel so much lighter than I did before the call! I literally felt the blocked energy flow out of my body. It felt amazing! Thank you so so much for holding this space."
Jody TurnerCultural Trend Reporter
I have done work with healers over the last 20 years and Katharina is by far the most effective and clearest as she is quite evolved in her approach. I appreciate the results greatly as well as her dedication and service.
Frequently
Asked
Questions
How does distant healing work?
The event time does not work for me. Can I still participate?
Can I include family members and friends?
Do I have to sign up each month to participate?
About
Katharina
Hi, I'm Katharina and I am happy you are here!
I have been doing energy healings and intuitive readings for over 10 years.
My passion is energy healing, exploring the nature of human consciousness, and also spirituality.
l'm also a medical intuitive and hold a license in medicine in Austria.It's my pleasure and joy to invite you today to the free energy healing event.
l'm looking forward to connecting with you on the call!
Much love,
Join our growing community and be part of the FREE ENERGY HEALING!
Enter your name and email so that I can send you the access information now.
No spam. Newsletter subscription included.